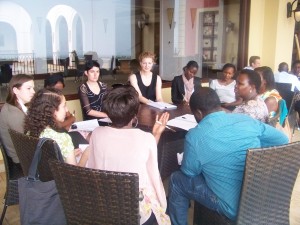 The 3 day regional meeting that CEHURD convened at Lake Victoria Serena hotel from 28th -30th November 2012 was attended to by lawyers, judges, registrars and Commissioners from Burundi, Tanzania, Rwanda, Kenya, Uganda and South Africa
The workshop was aimed at deepening the understanding of approaches towards litigating the right to health, overcoming social and legal barriers and the contribution such litigation can make to human rights promotion in the region;
It further aimed at developing alliances and networks to work on litigating the right to health in the region; as well as sharing practical experiences of litigating the right to health, including implementation of judgments.
It was hoped that at the end of the workshop we would explore possibilities for increasing provision of pro bono services in the area of health rights, as well as strategic litigation
It was a successful meeting which saw lawyers and commissioners on board discussing health rights related cases as well as hearing from the judges what they expect of us when we go to court.
From the meeting, thematic areas of work were identified including  carrying out regional litigation on the right to health.
At the national level, CEHURD is writing an allegation letter to the Special Rapporteur on the right to health seeking his intervention into the Anti Homosexuality Bill that the speaker of parliament promised to pass as a christmas Gift. We are contending that if the Bill is passed into law, serious health rights violations of the rights of LGBTI people will suffice.