Our Community Empowerment Program (CEP) works towards ensuring transfer of power and resources to citizens, ensuring that communities speak out and exercise their agency. As such the CEP Program ensures building of locally driven initiatives on the right to health. These interventions have been successful in 10 Districts of Uganda namely: Buikwe, Butambala, Gomba, Kampala, Kiboga, Kyankwanzi, Luwero, Mukono, Nakaseke and Wakiso.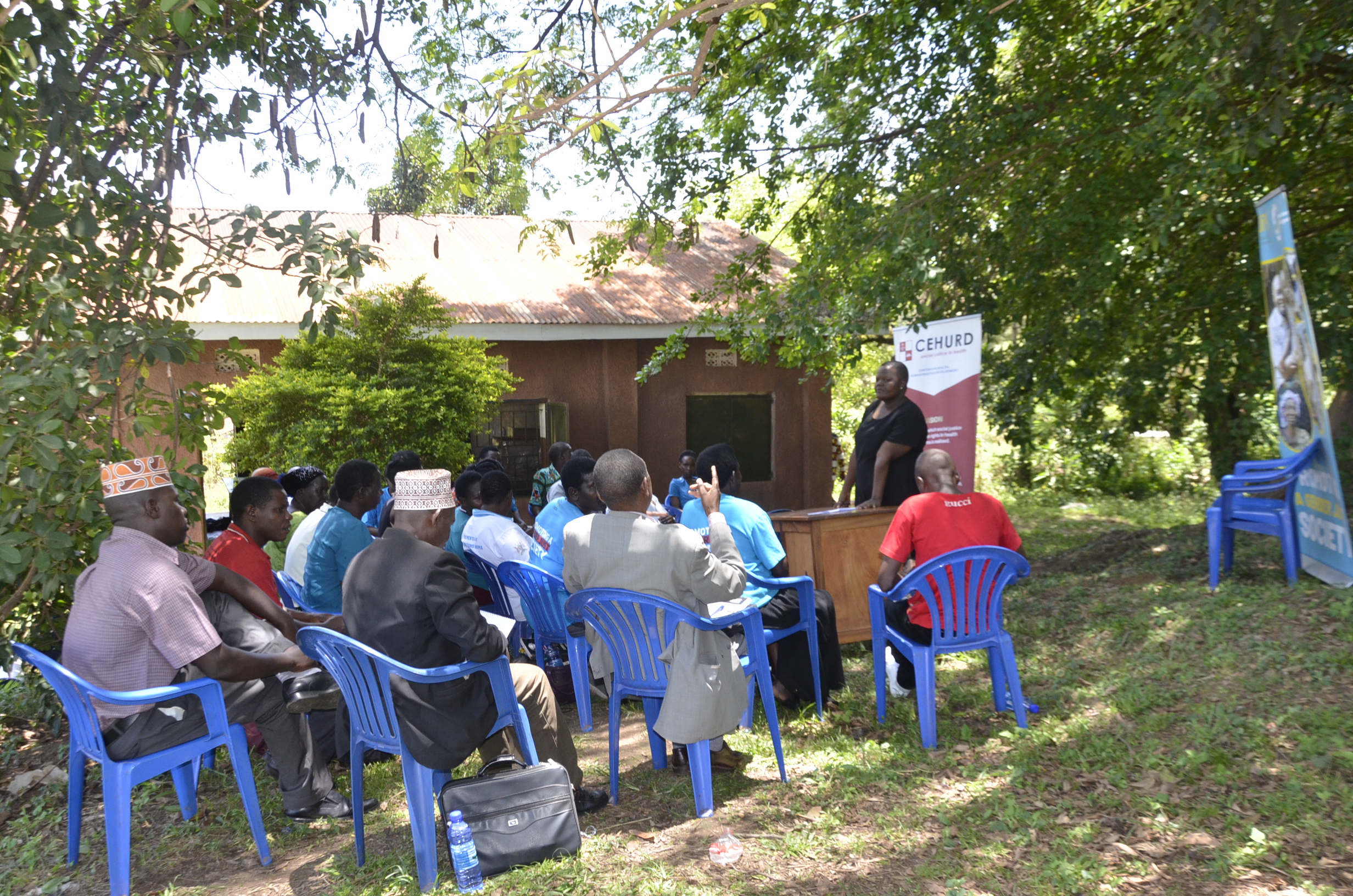 In the last strategic phase, we employed Four Community Models that were highly successful –
(i) Community Health Advocates Model (CHAs Model)
(ii) Legal Empowerment and Social Accountability Model (LESA Model)
(iii) Community Score Cards and
(iv) The Health Clubs Model.
We commit to further scaling up these 4 models as well as employing other peer-to-peer models and approaches including: community mobilisation and dialogues, media engagements, Participatory Action Research (PAR), promoting stakeholder participation, partnerships and networking, Human Rights Based Approaches (HRBA), establishment of school health clubs/SRH clubs  in communities, schools and institutional of learning, among others.
We empower communities to hold duty bearers accountable and also empower duty bearers to be accountable. We also acknowledge that total enjoyment of health and human rights requires responsiveness of duty bearers. CEHURD will therefore invest in enhancing the capacities of duty bearers so that they have a better appreciation of health and human rights. Key targeted duty bearers will include: Local council leadership, local governments, JLOS sector actors, health service providers and other duty bearers.  Further, as we nurture strategic partnerships at local levels promote dialogue between rights holders and the duty bearers and amplify a citizen voice at the national regional and international levels.
We are cognisant that sustaining agency and action on the right to health requires building wider mass movements at grassroots and community levels as well as partnership with district-based partners (duty bearers and rights holders). We will continue building agency at community levels in the Districts where we work. We will undertake Legal Empowerment and Social Accountability (LESA) capacity building initiatives at community level as a way of building agency of citizens to demand for health and human rights services.  We will mobilise and strengthen the capacities of rights holders to be able to speak for themselves and lead advocacy efforts. Our capacity building interventions shall also focus on creating cross-movement collaborations at district and lower levels to effectively champion health and human rights advocacy at grassroots levels as well as connect national advocacy and grassroots advocacy and strengthened leadership capacities of our community volunteers – the CHAs.
As an organisation that believes in the agency and voice of our core constituencies; we shall scale up the strengthening of capacities of our CHAs Model – health and human rights volunteers within the districts where we work, to lead advocacy efforts and initiatives to pursue greater rights for themselves and their communities. In addition, through the CHAs, CEHURD will deepen and expand its work in the districts of operation so as to create impact and sustainability of its interventions.
PROGRAMME BRIEF

.

GOAL

Rights holders and duty bearers at community level participating effectively in promoting the right to health.

OBJECTIVE

To build the community capacities on health and human rights.

PROGRAMME LEAD

Francis Serunjogi

CONTACT

info@cehurd.org

Category

CEHURD Programs