By Judith Suzan Nakalembe
Twenty years ago, the African Union took a momentous stride towards safeguarding the rights and well-being of women and girls across the continent. In 2003, the Protocol to the African Charter on Human and People's Rights on the rights of women in Africa (Maputo Protocol) .This landmark instrument was specially designed to address the distinctive challenges encountered by women and girls on the continent, aiming to comprehensively uphold and safeguard their rights. Uganda endorsed the Maputo Protocol on March 22, 2010, signifying the nation's commitment to champion and foster women's rights in alignment with the protocol's principles. The endeavors of the Center for Health Human Rights and Development (CEHURD) in advocating for Sexual and Reproductive Health and Rights (SRHR) in Uganda resonate harmoniously with the principles and goals outlined in the Maputo Protocol.
Article 14: A Catalyst for Change: Article 14 of the Protocol highlights the importance of preserving and advancing women's reproductive health and rights in Uganda. It emphasizes the need for accessible family planning education, comprehensive health information, and improved healthcare services to reduce maternal mortality rates and protect women's reproductive rights, including permitting medical abortion in specific circumstance.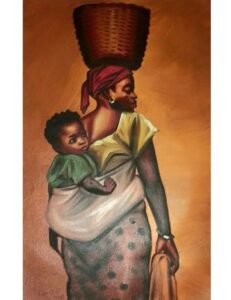 Pic: Dignity Empowered: A Woman's Journey to Fulfilling Her Family Planning Needs and Gender Roles.
Article 14 of the Maputo Protocol imposes a significant responsibility on the Ugandan government to enhance healthcare services for pregnant and breastfeeding women, focusing on prenatal, delivery, and post-natal care, aiming to reduce maternal mortality and improve the well-being of both mothers and children. Furthermore, the article underscores the importance of safeguarding women's reproductive rights in Uganda by permitting medical abortion in specific situations, acknowledging the complexity of women's circumstances and prioritizing their overall well-being and reproductive autonomy in the country
Tackling Maternal Mortality and Unsafe Abortions
Uganda faces high maternal mortality rates, largely driven by unsafe abortions due to restrictive abortion laws. Despite the Maputo Protocol's provision allowing safe and legal abortion in specific circumstances like sexual assault, rape, incest, or threats to a woman's mental or physical health, Uganda's reservation to this provision results in a legal landscape that forces many women to seek unsafe procedures, contributing to maternal mortality.
< Pic: Silent Suffering: The Untold Story of a Woman's Struggle with SRHR Neglect
The Impact and Innovation for Uganda
The Maputo Protocol is a groundbreaking treaty in Uganda. It uniquely links women's rights with their health, emphasizing the importance of accessible and comprehensive healthcare services, including maternal care and family planning (Article 14(1)). Furthermore, it addresses harmful practices like female genital mutilation and forced sterilization, underscoring the protocol's commitment to safeguarding women's health and rights (Article 5).
Advancing Women's Health in Uganda: A Case Study
CEHURD's proactive role in championing for Sexual and Reproductive Health and Rights (SRHR) in Uganda via advocacy and legal actions impeccably aligns with the Maputo Protocol's emphasis on women's rights and gender parity in Africa. Several salient instances and references underscore the alignment of CEHURD's work with the protocol's principles:
Advocacy for Policy and Legal Reforms: CEHURD has been at the forefront of advocating for the amendment of Uganda's stringent abortion laws to harmonize with the Maputo Protocol's call for access to safe abortion services. The organization has fervently campaigned for amendments to the Penal Code, ensuring that women possess the prerogative to make decisions regarding their reproductive health.
Legal Action to Challenge Rights Violations: In 2011, CEHURD instigated a landmark case against the Ugandan government, contesting the absence of maternal health services that led to the demise of a pregnant woman. This legal action mirrors the Maputo Protocol's emphasis on obtaining access to quality healthcare services and holding entities accountable for rights transgressions.
Propagation of Health Services: CEHURD's advocacy Endeavors have significantly contributed to advancing access to sexual and reproductive health services. For instance, the organization has actively participated in campaigns aimed at augmenting awareness about family planning and maternal health services in underserved communities, aligning harmoniously with the Maputo Protocol's focus on women's health rights.
Education and Awareness: CEHURD has conducted workshops, webinars and seminars to enlighten communities and policymakers about SRHR. Their "Know Your Rights" workshops empower women by disseminating information about their entitlements, encompassing those linked to reproductive health and gender-based violence, in resonance with the Maputo Protocol's plea for sexuality education and awareness.
Monitoring and Reporting: CEHURD's annual reports and publications chronicle instances of rights violations and disparities in Uganda's SRHR policies and practices. These reports contribute to the monitoring and reporting mechanisms recommended by the Maputo Protocol to gauge progress in women's rights.
In Conclusion
As we commemorate two decades of the Maputo Protocol, its enduring influence, marking two decades of progress, continues to drive positive changes in women's rights and healthcare in Africa, with its impact on Uganda's Sexual and Reproductive Health and Rights policies serving as a testament to its transformative potential.
The writer is an Advocate/Program Officer at the Center for Health Human Rights and Development Uganda (CEHURD).