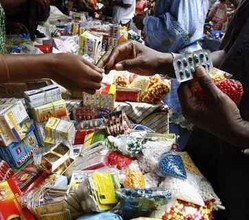 23-Apr-2012
Kenya's High Court has ordererd a review of a controversial anti-counterfeit law enacted in 2008 on the grounds that it could interfere with the supply of legitimate generic medicines to patients.
The 2008 Anti-Counterfeiting Act has been under fire since before it was passed with critics claiming that it was too much of a blunt instrument to handle the complexities of the counterfeit and substandard medicines trade, and set too much store by intellectual property rights.
The Act defined counterfeiting as an intellectual property breach of a protected good, which can include "the manufacture, production, packaging, re-packaging, labelling or making, whether in Kenya or elsewhere, of any goods whereby those protected goods are imitated in such manner and to such a degree that those other goods are identical or substantially similar copies of the protected goods."
In theory, this could encompass legitimate generic copies of drugs that are on-patent anywhere overseas. Given that the vast majority of drug patents are not registered in developing countries like Kenya, there had been fears that enforcement of the ACT could reduce the range of generic medicines available to doctors and their patients.
That was acknowledged by the High Court, with Judge Mumbi Ngugi saying in her ruling that "the Act is vague and could undermine access to affordable generic medicines since [it] failed to clearly distinguish between counterfeit and generic medicines."
The High Court has called on Kenya's Parliament to review the Act and remove ambiguities that could result in arbitrary seizures of generic medicines under the pretext of fighting counterfeit drugs. The judgment also stated that IP rights should not override the right to life and health.
The judgment comes at a time when the World Health Organisation (WHO) is also struggling to contend with the controversy about the conflation of IP and public health issues in the area of what it refers to as substandard/spurious/falsely-labelled/falsified/counterfeit medical products (SSFFCs).
The High Court ruling has been immediately welcomed by UNAIDS, whose executive director Michel Sidibe said: "This decision will set an important precedent for ensuring access to life-saving drugs around the world."
UNAIDS notes that at the end of 2011 about 1.6m people in Kenya were living with HIV, with more than half a million on antiretroviral therapy provided in large part by generic drugs from generic manufacturers in India and elsewhere.