By Tom Gwebayanga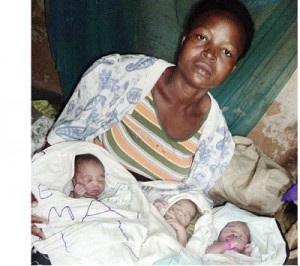 Annet Nakaibale, a mother of eight, knew she was carrying more than one baby, but did not expect triplets. As fate would have it, labour pains struck when she was by herself in a grass-thatched hut.
The 35-year-old narrowly survived death. She recently successfully delivered triplets without anyone's help.
The resident of Bukwaya-Inuula in Bugaya subcounty, Buyende district, says the labour pains began at about 7:50am when all her children had gone to school and the neighbours to their gardens.
"The pains started abruptly but I did not have the energy to walk to my neighbours, who were tending to their gardens," she says.
Nakaibale delivered the first child, but hardly had she reached for the razor blade to cut the umbilical cord, when the second baby came. "After cutting the second cord, I thought it was over, but fresh pains erupted and the third baby came."
As Nakaibale lay in a pool of blood wondering what to do, she heard someone walking past her hut and she made an alarm.
"Help, I have delivered triplets, but I am desperate," Medi Kabolu, the passerby, narrates. "The triplets were crying helplessly, lying bare on the ground." He did not know what to do, so he also raised an alarm. Sympathisers gathered around her and mobilised a motorcycle that transported her to Bugaya Health Centre III, 15km away.
The babies' weight had not been established, but they were healthy, according to medical workers at the health centre. Unfortunately, Nakaibale's husband, David Kaduku, left four months ago to burn charcoal in Kiboga Forest, so he was not at home to welcome the bundles of joy.
"I am happy that I survived because I would have bled to death. I thank my fellow residents for their support" Nakaibale, says.
She says four months ago, the attendants of a nearby drug shop had examined Nakaibale and revealed that she was carrying more than one baby, but did not divulge more details.
On why she did not consult the experts, Nakaibale says she could not afford sh10,000 to hire a boda boda to Bugaya Health Centre III.
Challenge of health facilities in Bugaya
Charles Musasizi, the district health inspector for Buyende, says Inuula parish comprises 14 villages with only one health facility, Bugaya Health Centre III.
He adds most maternal deaths result from failure of mothers to make it to the health centre because they cannot afford the transport costs. Musasizi says there is also shortage of medical workers. The people manning the drug shops usually double as midwives.
According to Dr. Thomas Suubi of Suubi Medical Clinic-Mateete, Sembabule district, an expectant mother must be put under surveillance to minimise pre-and post-delivery complications.
Recently, Sarah Naigaga, a resident of Buseete, Buyende district in eastern Uganda, also delivered a baby in Buyende livestock market.  Such occurrences are common, since the Melinda Gates Foundation that used to transport pregnant mothers in Buyende and Pallisa districts phased out the project in 2010.
Understanding the risks involved
Any pregnancy is challenging, but for a multiple pregnancy, the experience is more demanding and the risks, high
If you are expecting more than one child, you are at a greater risk of pre-eclampsia, a life-threatening condition that occurs during pregnancy and/or immediately after giving birth.
The condition is characterised by a rapid rise in blood pressure that can lead to seizures, stroke, multiple organ failure and death of the mother and/or baby. One, therefore, has to understand and appropriately respond to the warning signs of preeclampsia before the condition gets out of hand.
Multiple pregnancies are high risk and an obstetrician must watch the pregnancy closely because it can result in pre-term birth. A pre-term birth is when a baby arrives before 37 weeks of pregnancy.
The further on into your pregnancy you are, the more likely it is that your baby will do well. This is because his organs will be more mature, his lungs will be better prepared for breathing and he will have more strength for sucking and feeding.
You may face physical complications from the added strain of carrying additional weight for a longer period of time, and you might feel some extra psychological stress over wondering how you will feed and care the babies
Sometimes one baby will get more than its share of oxygen and nutrition at the expense of the other. This puts both in grave danger, as the overload on the larger twin can be just as lethal as the deprivation to the smaller one.
Regular ultrasounds are, therefore, needed to make sure the babies are growing at roughly the same rate.
Delivery poses dangers as well. Breech babies are frequent. This is where the baby's buttocks and/or feet will be positioned. This makes C-section the safest way to deliver.
Source: http://www.newvision.co.ug/news/636548-mom-delivers-triplets-on-her-own.html