Sensitizing adolescents on SRHR through music, dance and drama.
David Kabanda addressing media fellows during a recently concluded media training
Members of the SRHR clubs in Manafwa district present a poem on the dangers of teenage pregnancy
The Honourable Justice David Batema with CEHURD staff after sharing the 3Ps of a lawyer at the staff retreat
Mr. Mulumba giving opening remarks at the CSMMUA strategic planning meeting at Garuga.
Health workers' training on the HRBA approach in the provision of SRHR services in Jinja.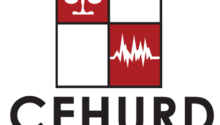 PRESS RELEASE Kampala, Uganda Today the Center for health human rights and Development filed a complaint jointly with Dr. Diana Stella Nasike with the Uganda ...Read More
Center for Health, Human Rights and Development (CEHURD) is an indigenous, non-profit, research and advocacy organization which is pioneering the enforcement of human rights and the justiciability of the right to health in Eastern Africa.
VISION:
A society in which social justice and human rights in health systems is realised.
MISSION:
To advance health rights for vulnerable communities through an integrated programme of litigation, advocacy and action research