Maternal Health
16 mothers die everyday due to pregnancy related complications in Uganda. No mother should die giving a life!
Dont criminalize HIV transmission
Clause 41 of the HIV Prevention and Control Bill 2010 criminalizes "intentional" transmission of HIV. This is an inappropriate use of the law.
Creative Commons Uganda: Sharing is Caring
CC initiatives are aimed at facilitating sharing of knowledge and creativity with the world. CC affiliates in Uganda have developed tools that support and steward legal and technical infrastructure that maximizes digital creativity, sharing of art, and innovation.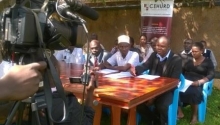 The Centre for Health, Human Rights and Development (CEHURD) has today the 27th March 2015 instituted a case in the High Court calling for its […]Read More
Center for Health, Human Rights and Development (CEHURD) is an indigenous, non-profit, research and advocacy organization which is pioneering the enforcement of human rights and the justiciability of the right to health in Eastern Africa.
VISION:
To realize social justice in public health systems in East Africa.
MISSION:
To work towards an effective, equitable, people-centered health system and ensure the full realization of the right to health and promote respect for human rights