By Andante Okanya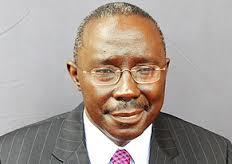 The Attorney General Peter Nyombi, and the Mulago hospital executive director Dr Byarugaba Baterana, have refuted claims that they are responsible for the disappearence of a twin baby purportedly stolen from the hospital last year on March 12.
The rebuttal is contained in their written statement of defence filed on September 3 at the High Court in Kampala. This is in response to a civil suit filed by a couple Michael Mubangizi(mechanic), and Jennifer Musimenta(housewife). It was jointly filed by advocacy group Centre for Human Rights and Development.
The AG states that if at all the claims are true, Government and the executive director cannot be held accountable for actions of the culprits who acted on their own volition.
"In the alternative, but without prejudice to the foregoing, the second defendant(AG) shall aver that if at all the child was stolen by servants of the first defendant(executive director) as alleged, the said servants were acting on a frolic of their own," the AG contends.
The plaintiffs allege that on last year March 12, Musimenta developed labour pains, and was taken to hospital by Mubangizi.She further purports that on the same day at about 8pm, she delivered twins.
The couple wants court to declare that their rights to a family, have been violated, and that they are entitled to damages for their loss.Musimenta claims she was informed by a nurse that the second baby had died.
The plaintiffs further state that the Musimenta was asked for a bed sheet where the body of the baby was wrapped. Court documents show that on the discharge date of March 15, Musimenta left without the body.
Musimenta claims that her request for her medical records prior and after birth, were ignored. She states that there was an evident display of dishonesty by the hospital staff.
The plaintiffs claim that when they insisted on having the body, they were informed that it could not be traced. Last year on March 16, they lodged a complaint at Mulago Police post. They claim that last year on March 18, a midwife told them that the body had been discovered in a box. However, they purport that the body looked fresh, and was wrapped in a cloth different from that given by Musimenta.
Musimenta asserts that Police advised her to take a DNA test which revealed a mismatch, and confirmed their allegations.
But Baterana asserts that the couple took the body. He queries the authenticity of the DNA test, saying he "never participated in the DNA process as would be the case."
The defendants have asked court to dismiss the case and award them costs. The case file has been allocated to Justice Lydia Mugambe. Hearing is scheduled for November 27.
Source: http://www.newvision.co.ug/news/647115-attorney-general-refutes-stolen-baby-claims.html