By Mr. Mulumba Moses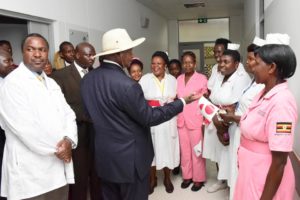 Experts met this week for the Fourth Global Symposium on Health Systems Research in the beautiful Canadian city of Vancouver. This particular symposium theme was built around resilient and responsive health systems for a changing world. Simply put, on the one hand, health systems must be resilient in ways that enable them to absorb shocks and sustain gains and on the other hand, the systems should be responsive by anticipating change, respecting rights, and engaging politics.
I got an invitation as part of the closing panel to particularly share thoughts from a retrospective look at how lessons learnt from key moments in the field of health policy and systems research and practice might shape and inform the field going forward. This offered me a moment of reflection on the global developments in health policy and how these have continued to shape and affect our health systems nationally. In my reflection, the Global Agenda on health policy has shifted from a broader focus on strengthening resilient and responsive health systems to an approach of sustaining health systems in the most economically efficient manner with minimal public sector investments.
The spirit of building such resilient and responsive health systems was very inscribed in the earlier global health agenda as illuminated in key documents such the 1974 Lalonde Report, the 1978 Alma Ata Declaration on Primary Health and the 1986 Ottawa Charter from the first International Conference on Health Promotion. At the core of these proclamations were health systems built on prevention of health problems and promotion of good health.
The Alma Ata Declaration, for instance, emphasised investments in primary health care and highlighted that people have a right and duty to participate individually and collectively in the planning and implementation of their healthcare. The focus then was to move away from just medicalised health systems to more inclusive ones with a community-engagement component.
In my view, if well implemented, this approach would provide an impetus for building resilient and responsive health systems.
There was, however, a shift in the mindset of theory informing health policy-making towards the early 1990s. At this time, Primary Healthcare approaches and health promotion strategies were criticised for being unmanageable, lacking clear measurable, and very costly to sustain. In the alternative, a selective approach that is disease specific, measurable, and more cost effective was proposed.
It is not surprising that global decisions on health have bred the current famous disease specific projects in areas of HIV/AIDS, Tuberculosis, Malaria and lately maternal health. As such, all funding for the health sector has been moved to these projects. The impacts on the overall health systems especially in the low and middle income countries have been severe.
These range from destruction of Primary health care structures of community participation in health decision making, through to emergency of neglected diseases and parallel programming siphoning key human resources from the mainstream health system to the more resourced disease-specific projects. The disaster in the end has been the non-resilient and unresponsive health systems which are manifested by the outbreak and failures in the control of diseases like Ebola in West Africa.
In my view, the change in mindset could be largely attributed to the major role played by the neoliberal approaches introduced in the early 1990s when the World Bank together with the IMF aggressively introduced Structural Adjustment Programs as condition for receiving bailout loans.
This approach advocated for major budget cuts from social sectors, including health. The call for cutting public expenditure severely affected investment in health systems. They were replaced by projects focused more on diseases and less on Primary Health Care Investments.
This approach has led to development frameworks being highly skewed towards a free market economy. With this thinking continuing to influence national policy making through the famous Poverty Reduction Strategy Papers now metamorphosed as National Development Plans, countries including Uganda continue to conceptualize their national health policies and strategies from an economic perspective more than as a public health concern.
In my opinion, this has by and larger resulted into selling health systems to the market place and commoditising the provision of health care. This has been very carefully crafted to slowly but surely weaken the role of the State in building resilient and responsive health systems. It is, therefore, not surprising that in a number of health systems in low income countries including Uganda, the private sector is providing close to fifty percent (50%) of healthcare. No health system largely run by the private sector can be described as resilient and responsive.
Such implications are not just at the national level, but the entire architect of global health governance. The would be global leaders have to highly depend on the private sector not just for their funding but also agenda setting and proposing the global health priorities. The current proposals on universal health coverage are, therefore, not surprisingly dominated by the role of health insurance. This is understood as a business model.
I will propose that in looking forward, we need to situate health systems research in interrogating a paradigm shift in the current health governance structure. At the global level, health governance should question the agenda setting and toning down on the role of the private sector. At the national level, the state needs to reclaim its role in the social contract, including emphasis on its unfettered regulatory function and – at the community level, health governance should bring back communities in priority setting, involvement, informing evidence, and not merely acting as vehicles for facilitating health provision because of limited resources. In this way, we could talk about a resilient and responsive health system.
Moses Mulumba is a lawyer practicing Health Law and Policy at the Center for Health, Human Rights and Development.
Follow THIS LINK for the full Article