By Serunjogi Francis and Nsereko Ibrahim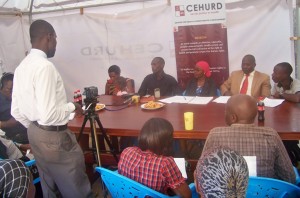 Today 25th July 2013 the Center for health Human rights and Development (CEHURD) together with other CSOs working on health and human rights issues have held a press conference at CEHURD offices in Kamwokya to strongly condemn the continuous violation of fundamental human rights in health facilities.
During the press conference, members have called upon the Judiciary to pronounce itself on violations of the right to health, access to health information, right to a family and rights of the child.
This follows a case filed by the Center for Health, Human rights and Development (CEHURD) together with Mubangizi Micheal and Musimenta Jennifer in the High Court of Uganda (Civil Suit No. 212 of 2013) against the office of the Executive Director of Mulago National Referral Hospital and the Attorney General for Violation of fundamental human rights guaranteed in the Constitution of the Republic of Uganda of 1995.
In that case the plaintiffs state that by denying the couple access to their medical records, opportunity to nurture and bring up their child, taking away their child without permission coupled with the daily mental anguish and agony they go through because of denial to access their child or its body which is a violation of their Constitutional rights and the defendants are answerable.
"I gave birth to two babies, but I was only given one. I was denied my child or its body and they even denied me my medical records. I am traumatized and psychologically tortured every day of my life every time I look at my other child. I know my child isn't dead, she is alive. I am afraid of giving birth in hospitals", says Musimenta Jennifer, the mother to the missing child.
With the uncertainty as to the whereabouts of their Child or its body, the Couple tirelessly searched for their child but only to be given a fresh body after three days. They resorted to undertaking a DNA test which revealed that the child was not related to any of them.
"I searched for my child in the entire Mulago hospital and I had faith that my baby would be located.  My hope was shuttered as I failed to discover my child or her body for three days. I was only called after the three days and given a fresh body of the child. I looked at the body but I was sure that this was not my child since the body was fresh. I decided to report the matter to police which advised me to undertake a DNA test. This test revealed that the components were negative. I approached CEHURD to file a Human rights case for the human rights violations my family suffered and we are still going through" Says Mubangizi Michael, father to the lost child.
"A number of women are facing human rights violations in health facilities all over the Country when they go to give birth. Most of these cases go unnoticed since the perpetrators of such violations are not made answerable for such injustices. These vulnerable women are not aware of their rights guaranteed under the Constitution and Regional and International Human Rights Instruments," says Ms. Nakibuuka Noor the Program Manager Strategic Litigation.
The above reflects the suffering mothers and their families go through when their rights are violated in the health facilities. It is time for everyone to act to stop these injustices.
For more information, contact: Nakibuuka Noor Musisi, CEHURD, +256782496681