By Lipi Mishra and Serunjogi Francis
Today the High court of Uganda began proceedings on the maternal health case filed by the Centre for Health Human Rights and Development &  Others against Nakaseke District Local Government (Civil suit No.111 of 2012).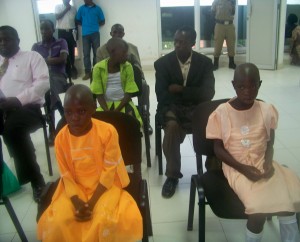 The first day of proceedings was widely attended to by members of the public, the Coalition to Stop Maternal Mortality in Uganda, and the media.
Actions for this case were filed on April 12th 2012 by CEHURD after Nanteza Irene died In Nakaseke Hospital while in labour. The plaintiffs assert that Nanteza Irene was not given medical attention for almost 10 hours.
This case triggers a number of Constitutional issues, all of which are being used to claim that the events leading  Nanteza Irene's death violated her (and her children's') rights to life, health, freedom from inhumane and degrading treatment, and equality.
The case was presided over by His Lordship Justice Benjamin Kabiito and two witnesses from the plaintiff's side were interviewed. Nanteza Irene's three surviving children were also in attendance.
CEHURD is actively involved in a number of other activities as it awaits the judgment in this case including advocating for a better health budget for financial year 2013/14 and ensuring that health workers are recruited, motivated and remunerated.
The trial has been adjourned until 31st May 2013 and it will proceed with testimonies from the remaining witnesses.