By Jillian Ohayon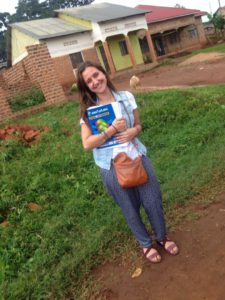 My name is Jillian, I got an opportunity to work at CEHURD for the summer of 2017. I am a Law student at McGill University in Montreal, Canada. While at CEHURD I have had the opportunity to participate in a variety of interesting meetings and projects.
On my first day here, I had the chance to attend a hearing at the Constitutional Court. After that, I spent a few weeks involved in preparatory work with the Community Empowerment Program before spending four days in the field in the district of Gomba. There, I had the chance to speak with adolescent girls and young women about their level of satisfaction with HIV-related services and their experiences with gender-based violence. I found this to be both challenging and rewarding. I also had the chance to speak with various stakeholders about these issues to try and evaluate where the capacity gaps lie and where CEHURD would be best placed to come in and help.
I also worked with RDA, looking at the National Health Insurance Scheme Bill, with a specific focus on reproductive sexual health rights working with another intern creating a document critically analysing the bill by highlighting potential challenges, as well as comparing its objectives and design for implementation to other jurisdictions.
Finally, during my internship period, I have had the opportunity to attend multiple meetings on a variety of topics. These have included meetings between advocates from CEHURD and Burkina Faso, a sensitization training on unsafe abortion for police representatives, and a stakeholders meeting on the Day of the African Child.
My time in Uganda has been great. My favourite part about being here has to be the greenery and the sunshine! I really love Kampala, and have met some amazing people and made some great friends. The city is so vibrant and exciting, and I never feel at a loss for something to do. I am so glad that I decided to come and spend my summer in Kampala working at CEHURD!