By Joy Asasira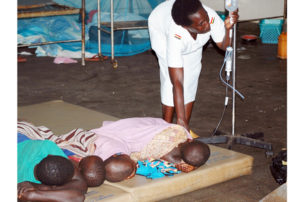 Over the past few months, much has been said by politicians and the media about reproductive rights issues, from comprehensive sexuality education, legalisation or decriminalisation of abortion and even access to essential HIV prevention tools such as Pre-Exposure Prophylaxis (PrEP).
Unfortunately, extreme views generated by religion and morality are drowning out public health, evidence, and human rights.
Can Uganda, a country suffering from a crippled health sector, afford to use morality, religion and politics to make decisions about life and death healthcare questions?
Many leaders have opposed efforts to ensure Ugandan women get access to safe abortion services regardless of severe health conditions like illness, disability or death.
I believe that Uganda's top health officials are going down a slippery path in embracing fundamentalism rather than evidence, when scientific evidence is clear. Uganda has a persistently high maternal mortality ratio at 438 maternal deaths per 100,000 live births, and of the 6,000,000 women that die due to pregnancy related complications annually, 1,500 of them are due to unsafe abortions. That translates into four out of 16 women dying every day due to pregnancy related complications being due to unsafe abortion.
Research done by researchers from Makerere school of public health shows that at the health facility level alone, Uganda spends Shs7.5 billion to treat complications due to unsafe abortions annually. Whichever way you look at it, that is way too much money being spent to mitigate something that is preventable.
Many questions come to mind in response: Why are religious leaders using their political capital and speaking out against an issue that lies at the centre of women's reproductive health, need we mention the other ungodly things that happen in our country that they have not pronounced themselves on?
Why is government refusing to act to address the crisis of deaths and sickness from unsafe abortion in Uganda?
It is unfortunate that the Ministry of health, the key line Ministry that is the steward of the health of Ugandans has chosen not only to ignore scientific evidence and data, but also to go head to take retrogressive measures like staying the implementation of Uganda's standards and guidelines for reducing morbidity and mortality due to unsafe abortion (S&Gs).
These S&Gs were intended to delineate a clear way forward to address morbidity and mortality from unsafe abortion in Uganda, and also to provide practical and standard information and guidance to front line health workers other stakeholders on managing abortion and related complications which will in the end reduce the contribution of unsafe abortions to maternal morbidity and mortality in Uganda.
This document went through all the required administrative and technical review processes within the Ministry of Health and was launched by the same Ministry in April 2015, only for a circular to be sent by the then Director General of Health services in December 2015 staying their implementation indefinitely.
This policy document sought to go beyond the "business as usual" approach of many of the other policy documents of the ministry by using a multi-disciplinary lens and a non-traditional approach that sought to provide progressive approaches for addressing unsafe abortion in Uganda given the existing legal frame work.
I cannot fault the religious leaders for having their say, after all, that is their mandate. However, we also have to caution ourselves on the role of religious fundamentalists (RFs).
RFs have taken seemingly well-thought out strategies to undermine any progressive strategies to respect, protect and fulfill reproductive rights of women in Uganda, but mind you, this is also happening in the global North. Unfortunately, it is not always about religious freedoms, it is very much also about power and by extension politics.
Challenges to social norms, especially ones challenging the institutionalisation of the subjugation of women will not be received with a handclap and a pat on the back. Ironically, sometimes this is also perpetrated by women against other women as is the case of Uganda.
I have no doubt that religion, culture, and, other social constructions have their place. But, when decisions on the reproductive health and women of Uganda are to be made, these should not be our go to disciplines.
Let scientific research, data, public health, human rights and the law among others take centre stage in determining national policy. That way, women get the services they need and also the responsible government officials and institutions are beyond reproach.
As we think about working towards middle-income status, we shall never achieve it if our women and girls continue to die in droves from preventable causes. Let us not forget that women and girls in Uganda are not only the main providers of care in the family, they are also the main providers of subsistence labour.
Their being healthy and productive is on one hand security for the community and country at large and also a necessary factor to ensure the health and well being of the children in their care. Above all, let us look at these issues holistically, if we pick and choose… we shall have lop sided progress in addressing the health challenges that plague this country.
Therefore, my call is to all stakeholders to do their part, in addressing the challenge of preventable deaths of women and girls due to unsafe abortions in Uganda.
Ms Asasira is the Program Manager Center for Health, Human Rights and Development. (asasira@cehurd.org)
http://www.monitor.co.ug/OpEd/Commentary/religion-morality-dictate-reproductive-health-policies/689364-3399398-5bf2p4/index.html