By Nakibuuka Noor Musisi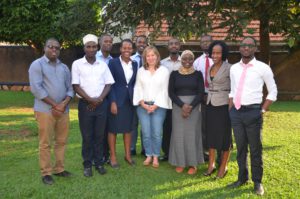 Over the years, CEHURD has grown into an organization that stands out to use the law to advance the realization of the right to health in Uganda and East Africa. Like any growing organization, CEHURD has taken steps to become what it is now.
Today, the organization is known as one that reaches out to the communities, undertakes research, litigates and advocates for the enjoyment of the right to health. CEHURD's blend of its programs ; Strategic Litigation, Community Empowerment and Research, Documentation and Advocacy excited one of its long time partners.
Roxana Bonnell has been CEHURD's development partner for years. She worked with Open Society Institute's Public Health Program at the time CEHURD was being formed. She facilitated some of the first funding to CEHURD and worked with staff to think through the first Strategic Plan in 2011, an experience that we still hold so dearly.
"I am in Uganda to offer whatever assistance I can to another young organization thinking through their first Strategic Plan, I am not here at CEHURD for a formal visit but rather to say hello to my friends" she noted on her visit to CEHURD offices on 27/7/17
She has a strong belief that not all lawyers will think about and do what CEHURD does. Most times lawyers think about practicing law in mainstream courts and relevant tribunals but CEHURD's uniqueness lies with allowing lawyers speak to people in a "common ways" that are impactful to their live, ways that aim at sensitizing and empowering the communities, she added.
While speaking with the team about CEHURD's work since 2011, she was excited and inspired with the strategies employed by the organization. "I am so excited for the fact that you the lawyers empower communities- this is important. The three programmatic approach is very unique and it's rare to find an organization with a bigger percentage of lawyers doing what you do. This is impactful, it has been such an honor to be considered a CEHURD friend" she explained.
Roxana still works for the Open Society Foundation, as well as a consultant to several other social justice funders. She discussed with the team the new trends in access to medicine, noting the important role CEHURD has played for years in access to medicines advocacy in East Africa. She explained that OSF has broadened its support around access to medicines to include efforts that look at how innovation is prioritized and conducted. To ensure access to the medicines we need, we will need to change the current system and shift decision making power around medicines, away from transnational pharmaceutical industries back to governments. She believes that when governments acting for the public good have the powers to prioritize medicines, do clinical trials, and help regulate prices we will see a change in accessing affordable medicines for our countries.
Roxana is one among the friends of CEHURD that has come back to us after years. She was so impressed with CEHURD's growth and work, she strongly advised us to find opportunities to publish and tell our story to the broader global social justice community.