By Francis Kagolo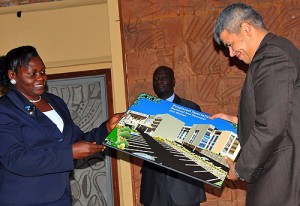 KAMPALA – The health ministry has launched a project to construct a 320-bed capacity women's hospital aimed at decongesting Mulago and curbing maternal deaths in the country.
The $34.14m (about sh91.5b) state-of-the-art national maternal and neonatal referral centre is to be constructed at Mulago hospital complex to handle high-risk maternity services.
The centre will also handle cancers of the female reproductive system including ovarian cancer, uterine, endometrial, cervical, and vulvar cancer.
The hospital, funded mainly through a loan from the Islamic Development Bank, will also offer family planning services among others. It will also have a 60-bed unit for the private wing.
Launching the project on Wednesday, State health minister Sarah Opendi was optimistic that the hospital would go a long way in improving maternal health once completed in 2016.
It is estimated that about 16 women die every day from giving birth in Uganda, bringing the number to over 580 a year.
At Mulago, between 80 and 100 mothers give birth on the floor daily due to congestion.
Mulago was built in 1962 when Uganda had only eight million people, but the population has since increased to over 34 million without significant expansion at the national referral hospital.
"This means that wards which used to accommodate eight patients, take 34 patients today," said Mulago hospital director Dr. Dr. Byarugaba Baterana.
"Expectant mothers must continue delivering on the floor until we complete this new structure
Source: http://www.newvision.co.ug/news/638791-mulago-launches-multi-billion-women-s-hospital-project.html