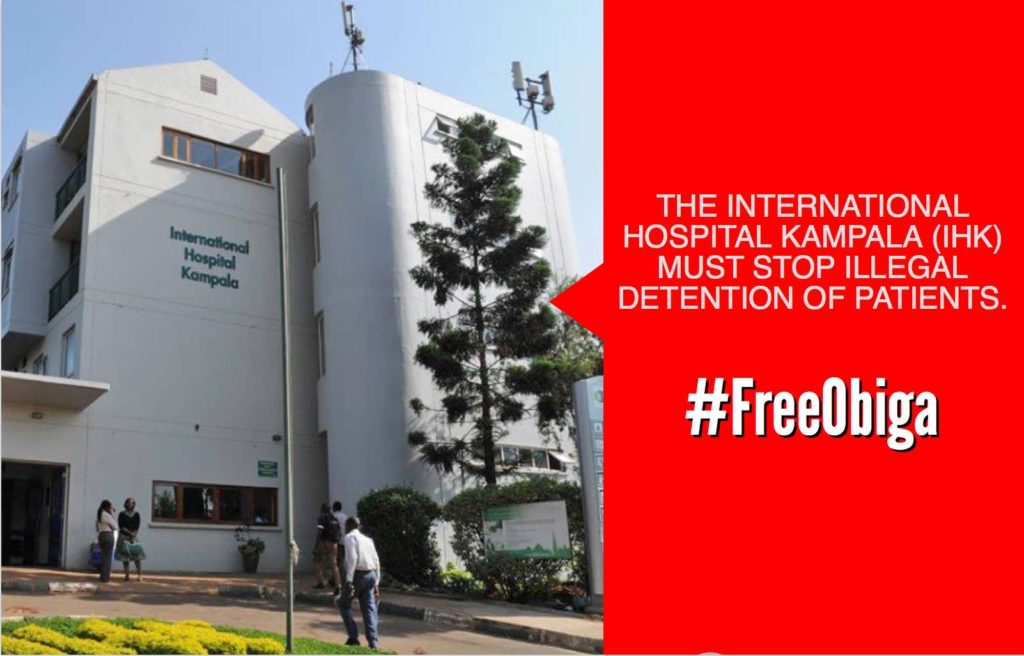 Kampala –Uganda –Today the Center for Health, Human Rights and Development (CEHURD) and Ms.
Rose Obiga filed a case with Uganda's High court in Kampala seeking for a court order for the release of
Mr. Patrick Obiga who has been illegally imprisoned and detained at International Hospital Kampala (IHK) in Namuwongo.
On the 4th day of August, 2016 Mr. Patrick Obiga –an assistant operations officer with Hash Security while on duty supervising his colleagues got an accident and while unconscious was rushed to IHK in
Namuwongo for emergency treatment. Mr. Obiga was given an emergency operation which successfully
brought him back to life. On the 22nd day of August, 2016, health workers recommended his discharge from hospital.
Mr. Obiga was charged a sum of over 38 million (Thirty eight million Uganda Shillings) as fees for his
treatment. His family has been able to pay over 20 million (Twenty million Uganda Shillings) in installments. Despite the partial payment and Mr. Obiga's plea to be discharged to look for the outstanding balance, he
remains incarcerated at the Hospital.
This act of detaining and imprisoning patients in health facilities is unconstitutional and violates
fundamental human rights guaranteed in the 1995 Constitution of the Republic of Uganda. In this instance, IHK is in continuous violation of Mr. Patrick Obiga's right to liberty, right to be free from torture, cruel, inhuman and degrading treatment. These violations are also in breach of the Prevention and Prohibition of Torture Act, that Parliament passed recently!
IHK can recover its out standing balances following due process of law rather than abusing rights of
patients.
WE DEMAND THE RELEASE OF OBIGA PATRICK FROM IHK JAIL TODAY!
We appeal to the Uganda Medical and Dental Practitioner's Council to:
Urgently make a communication on how to regulate practices of private health service providers in
recovering their costs without subjecting patients to incarceration
Review files of all patients detained illegally by IHK and other private health facilities and make
arrangements for their immediate discharge