The Ministry of health launched the "Standards and Guidelines for the Reduction of Maternal Mortality and Morbidity Due to Unsafe abortion in Uganda on 4th April 2015." According to the Uganda Demographic and Health Survey (UDHS) 2011, Uganda has a maternal mortality ration of 438 per 100,000 live births, 26 percent of these deaths are attributed to unsafe abortions.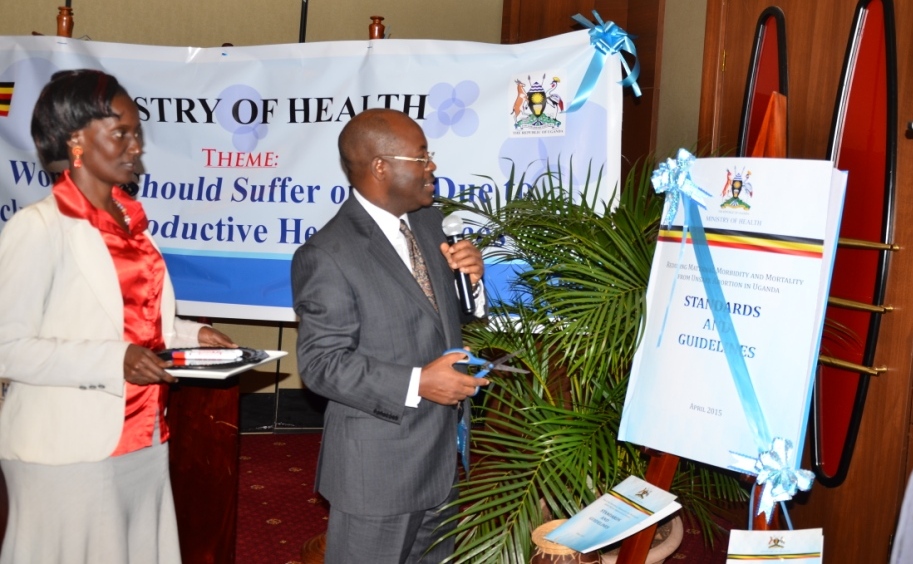 As an intervention, in 2013 the Ministry of Health in collaboration with Development partners, implementing partners, and stakeholders including; the Center for health human rights and development (CEHURD), IPAS Reproductive health Uganda (RHU), Association of Obstetricians and Gynecologist of Uganda (AOGU), Makerere University department of Psychiatry, Ministry of Justice and Constitutional Affairs, Makerere University School of Laws PACE, Health GAP, Marie Stopes Uganda, and the Coalition to Stop Maternal Mortality Due to Unsafe abortion (CSMMUA) started a consultative process for the development of Standards and Guidelines to address the mortality and morbidity as caused by unsafe abortions in the country.
These guidelines will be implemented in all health facilities nationwide and will also be used by health professionals as well as policy makers to take steps in the area of service delivery, advocacy and capacity building all aimed at reducing maternal mortality and morbidity caused by unsafe abortion in Uganda.
The launch of the Standards and guidelines which has marked the end of the two years multi-stakeholder consultative journey has been officiated by the Director of Health services at the ministry of Health Professor Anthony Mbonye on behalf of the State Minister of Health (in charge of primary health care) Honourable Sarah Opendi. In his statement during the launch, the Professor noted that Uganda like any other country pledged to meet the obligation under the Maputo plan of Action, MDG 5 on reduction of maternal mortality as well as other Global initiatives in order to ensure that lives are not lost as a result of unsafe abortions. "This has therefore remained a key Government concern," he added.
The chief executive officer of CEHURD, Mr. Mulumba Moses said that the standards and guidelines document is a step towards stopping women from turning to backstreet alleys. Mr. Mulumba added that it is encouraging to hear that the ministry is ready to tackle the problem head on by developing a policy structure that aims to deal with an issue that has been ignored for far too long.
In Uganda, termination of pregnancy is restricted and only permitted to preserve the life, mental and physical health of pregnant mothers. There have been challenges due to limited understanding of the legal environment by health providers, policy makers and patients hence formulating these guidelines which will help in solving this issue.
Dr. Charles Kigundu, president of the Association of Gynecologist and Obstetricians of Uganda noted that as health workers dealing with maternal health issues still find a lot of women coming to them with complications such as infections and punctured uteri. The guidelines will help solve the situation greatly since many health professionals believe that abortion is totally legal yet the guidelines provide a better picture on how, when, and in what circumstances a safe abortion can be performed.