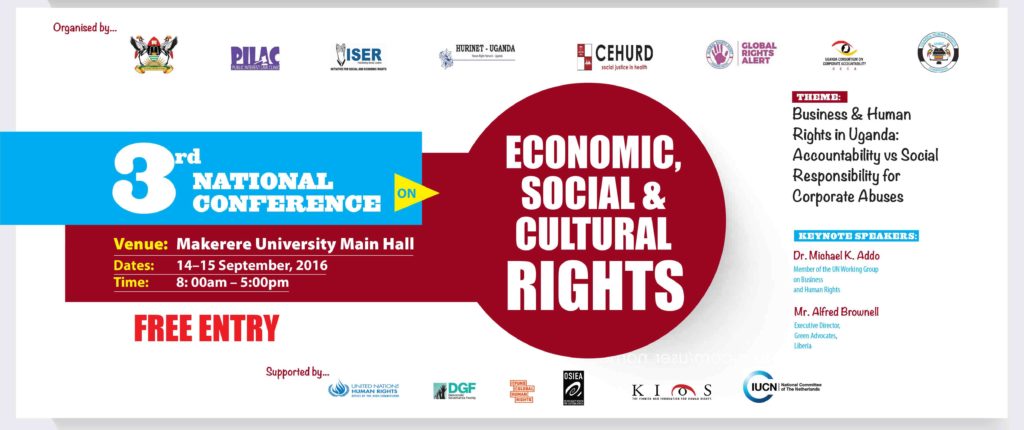 The Public Interest Law Clinic (PILAC) of the School of Law, Makerere University together with the Centre for Health Human Rights and Development (CEHURD), the Initiative for Social and Economic Rights (ISER), the Uganda Consortium on Corporate Accountability, (UCCA), the Human Rights Network-Uganda (HURINET-U), The Global Rights Alert (GRA) and the Ugandan Human Rights Commission (UHRC) have organized the 3rd National  Conference on Economic, Social and Cultural  Rights at Makerere University Main Hall, under the theme: Business and Human Rights in Uganda: Accountability Vs Social Responsibility for corporate abuses, scheduled to take place from the 14th – 15th September at The Makerere University Main Hall from 8:00am -5:00pm .

The team of organizers hope to bring together representatives from Government Agencies, NGOs'/CBOs, members of the academia, students, participants from the African Continent, representatives from the Diplomatic Missions, Development Partners, corporate entities, the business community, communities affected by actions/omissions of Corporations and the general public to discuss and develop structures and frameworks that can boost respect and protection of human rights by businesses as well as ensuring access to remedies in cases of abuses.
The idea of an Annual Conference on Economic, Social and Cultural Rights was born in 2014, at the behest of Government processes that flagged the need for constitutional reforms.
Please register for the conference here https://docs.google.com/forms/d/e/1FAIpQLSetlyFXU-bUy98N62ajTCqEk2dw3zNQ0B6HRWBzsqunEFDRmg/viewform