By Rebecca Carr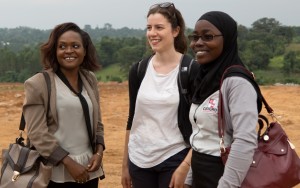 This Summer I undertook an internship at the Centre for Health, Human Rights and Development, Uganda (CEHURD) as part of the University of Toronto's International Human Rights Internship Program. Although placed within CEHURD's strategic litigation team, I was also able to see how the organisations work interacted with its other: community empowerment, HRDA (Human Rights Documentation and Advocacy), and communications teams. The complementary way in which its teams work together is, I think, what makes CEHURD unique, and is what appeared to make its right-to-health- enhancing strategies, highly effective.
On my first day, for instance, I went to the High Court to help report on a case that CEHURD is undertaking on behalf of communities living in Kiryamuli and Bamtakudde. The case concerned the destruction of the communities' natural environment and water source, contrary to their rights to health and to a healthy environment, among others. The damage – it is alleged – was caused by the defendant's commercial quarrying activities. The journey to court was not, much to my surprise, spent rehearsing legal arguments, but by a number of CEHURDs lawyers contacting media outlets about the case. Social rights sensitization, particularly through the media is, after all, critical to the rights broad and continued acceptance.  Throughout the course of the internship, it became apparent that this acceptance was necessary not only within local communities, but within Uganda's legal circles and policy arenas also, and was something that CEHURD was also keenly aware of.
During the summer, for instance, the strategic litigation team organised a Magistrates Forum to bring Magistrates, Academics, CEHURD staff and the media together to discuss human rights questions within the context of the criminal law. How, for example, might socioeconomic human rights protections be respected within Uganda's somewhat rigid, criminal law provisions? And to what extent are women's reproductive health rights recognised within the confines of the country's current Penal code? The day provided a much-needed space for critical dialogue and debate, and illustrated the importance of engaging the judiciary in rights-litigation matters, beyond the courtroom itself.
On the policy front, I saw how CEHURD connects its impressive grassroots research from the many communities it works with, to the policy-level advocacy it undertakes. I was able to attend, for instance, meetings regarding – what is likely to become – the country's sexual and reproductive health guidelines that CEHURD played a major role in creating.
My time at CEHURD was varied and exciting. Almost every day new issues regarding Ugandan's rights to health would arise and that I thoroughly enjoyed being able to assist with. What I've taken away the most is CEHURDs creative approach to tackling right to health issues, complex issues of a fundamental concern to the Ugandan people.
I thank all the staff at CEHURD, whose passion, commitment and kindness enabled me to have such a wonderful internship and time in Uganda.