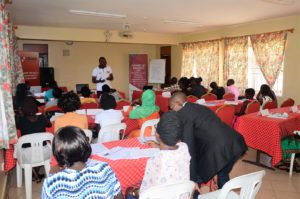 In a bid to improve access to Quality HIV services as well as addressing Sexual and Gender Based Violence (SGBV), the Center for Health Human Rights and Development with support from International Development Law Organization (IDLO) and ViiV Health Care is conducting capacity building exercises for different stake holders in Mukono and Gomba Districts.
During these engagements, it has been realized that parents have a great role to play in regards to reducing cases of SGBV among Adolescent Girls and Young Women (AGYW). The Capacity Building exercises conducted are aimed at enhancing capacities and knowledge of different stakeholders by equipping them with knowledge and skills to demand and provide quality HIV related service for AGYW as well as protection against SGBV and discrimination. The training workshops are targeting Community Paralegals, Community Based Organization Actors, Police officials, Health service Providers, District Officials, Justice and Law Sector actors among others.
During the training for Community Paralegals for example, AGYW gave their experiences on how Parents can be of great importance when it comes to reducing cases of SGBV which are among the reasons for increased prevalence of HIV amid AGYW.
Ms. Annette a resident of Kasawo in Mukono narrated her story about how she survived being defiled by her Father's friend. When I was 15 years a friend to my dad once called me and asked me if we could go to the shop and he buys me something to eat. When we reached a dark corner on our way to the shop, he grabbed me and dragged me to the bush. I was not aware of what was going on. He immediately rushed to my knickers. Thank God our senior woman teacher had told us how to deal with such a situation. Our teacher had told us that if a man rushes to your under garments with force, pretend as if nothing is wrong but make sure you kick or beat them hard on their private parts and run. When I was in that situation, the old man tried to tear up my knickers but all I did was to tell him I could remove them myself as I concentrated to save myself from that beast. As he approached me all relaxed, I managed to kick his private parts and ran off as he was nursing his pain. Annette sadly noted that she could not report that incident to her father because she first of all feared her parents a lot and did not think anyone could believe in her. This therefore means that parents must be free with their daughters to give them chance of disclosing to them worst experiences they go through in life and thus finding ways of helping them out.
It was also comprehended that parents have a role to respect their responsibility of paying school fees for their children to offer them a chance of acquiring knowledge and thus enabling them to make informed decisions in life. Many parents have abandoned their responsibility of taking their children to school which has exposed them to risks as they try to look for school fees elsewhere.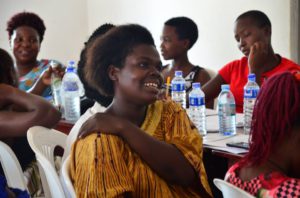 Ms. Allen Mutyaba a resident of Kanoni narrates her sorry of how she experienced SGBV just because her parents failed to raise her school fees. When I was 14 years old my parents could not afford paying my school fees. A Good Samaritan, a friend to my mother, asked my parents if she could go with me to her home and take me back to school. She got me back in school but my excitement turned into pain and tears shortly after her husband started coming to my bedroom at night when his wife was asleep. He threatened to send me back to the village if I told anyone about it. Often times when I refused he would insert his penis in my mouth. This went on for three years, all because of my need for school fees. On day I heard rumors that this man was HIV Positive. This news gave me courage that one night I slept with a knife, ready to stab him if the attempted to force himself on me. When he came to my room I stabbed him on the thigh and in the morning I reported him to his wife who immediately took me back to the village as she claimed I was going to spoil her marriage. On telling my mother about the whole story she took me for an HIV test. I would ably confirm that testing negative was the first miracle I ever witnessed since this man was HIV positive.
Many AGYW out there go through such cases and remain silently violated. This why CEHURD has come up to empower these AGYW as well as engaging with parents and caretakers to remind them about their roles and responsibilities when it comes to addressing SGBV among AGYW.
CEHURD is therefore employing Legal Empowerment and Social accountability mechanisms to address the existing systematic inequalities and obstacles to health service access as well as responding to Sexual and Gender Based Violence (SGBV). This will therefore lead to systemic improvements that will benefit all Adolescent Girls and Young Women in the targeted communities.