 This letter is to request your urgent attention and action regarding the bilateral arrangement entered into between the Government of Uganda and the Government of the Republic of Trinidad and Tobago for the deployment, transfer and exportation of over 260 public health workers to the service of t...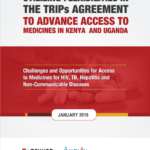 The Center for Health, Human rights and Development(CEHURD) in partnership with Kenya Legal and Ethical Issues Network on HIV and AIDS (KELIN) and Aidsfonds conducted a study on the "Utili...
This paper has been produced as an institutional position paper and follows our ongoing research and advocacy on the US Global Gag Rule and its effects on sexual and reproductive health and rights (SRHR) in Uganda and the rest of the Global South. The ideas represented here were developed in co...