By Juliana Nantaba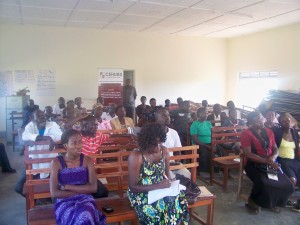 As the Millennium Development Goals (MDGs) target date of 2015 approaches, it is essential to take stock of Uganda's progress.  Even though in the past years, Uganda's infant mortality rate and maternal mortality have declined, an inexcusable amount of children and pregnant women still die every year from preventable causes. Health is a human right and a matter of social justice. Better and more equitable health outcomes increase productivity and resilience, reduce poverty and promote social stability.
The 2013 Report Of The Commission On The Post 2015 Development Agenda: Towards An African Common Position And Modalities For Establishment Of A Committee Of Heads Of State And Government On The Post 2015 Development Agenda reveals that some of the factors contributing to inadequate achievement of the child health MDGs include weak health systems (physical and financial barriers to essential health services, shortage of medicine, poor human resources) and poor conditions as determinants of health (household education, income, insufficient and inappropriate nutritional practices, poor sanitation facilities).
The causes of maternal mortality and morbidity are well known and mainly result from the inability of a health system to deal effectively with complications, especially during or shortly after childbirth. The availability of skilled health providers is critical in ensuring high-quality antenatal, delivery, emergency obstetric and post-natal services.
Health as a right is an important driver and key indicator of what sustainable development seeks to achieve.  One of the reasons why the MDGs have been widely affirmed as a good tool for development is that they were globally agreed; however, there is need to ensure that they are locally relevant and mutually owned.
The post-MDG framework must promote and facilitate genuine and representative country ownership that gives attention to accountability including downward accountability to beneficiaries.
In light of the above, CEHURD is currently undertaking a GO4HEALTH project  to identify, engage and involve stakeholders in the formulation of global health goals to follow-on the United Nations Millennium Development Goals (MDGs) beyond 2015.
The purpose of the project is to inform European Commission on how new goal to right to health should be and advise on how new ideas should be set through community consultations. The project is being done across the globe including Africa, Asia and South America. The African region has selected three countries i.e. Zimbabwe, south Africa and Uganda. Each of these countries has unique characteristics and will provide unique insights for the consultations.
With the end of the current MDGs less than 1000 days away, there is still much work to be done to achieve the health goals. The feedback from various CSOs consultations on health priorities for post 2015 state that the Post-2015 framework presents a massive opportunity to improve global health and should build on and improve the current health MDGs.
Each child should be able to live up to their full potential, intellectually and physically. Each young adult should be taught and empowered to live a healthy lifestyle, including reproductive and sexual health. And, through demographic and ageing transitions, each adult should be able to age gracefully with minimal morbidity and maximum functionality.