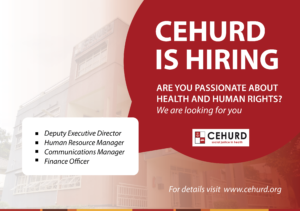 The Center for Health, Human Rights and Development (CEHURD) currently has a number of exciting career opportunities. The ideal candidates should have commitment to work with a dynamic and progressive organization focused on issues of Health and Human Rights. The selected candidates will bring their professional skill sets and work towards delivering on CEHURD's new strategic plan 2020 – 2024. The candidates should clearly indicate which of the four positions below they are applying for:
(a) Deputy Executive Director: This position is both technical and administrative. The ideal candidate should have technical competence in health systems and human rights work and should be able to support the Executive Director in providing leadership to the management functions of the institution in view of CEHURD's Strategic Plan 2020 – 2024. The candidate's scope of work will involve working with the office of the Executive Director to provide leadership and management of the organisation's programs, staff and finances, external relations, resource mobilisation, and policy implementation as well as guiding CEHURD's strategic direction.
(b) Human Resource Manager: The Human Resource Manager will work under the Administration Department and will be responsible for providing the overall leadership to the Human Resources (HR) function for CEHURD. This will include reviewing and developing the CEHURD HR policies and services from an operational and strategic perspective and ensuring that the HR function is aligned to CEHURD's Strategic Plan 2020 – 2024 and beyond. The position holder will provide practical, consistent, and pro-active support, direction and advice to the CEHURD management and all staff on HR policies, systems procedures and best practices.
(c) Communications Manager: The Communications Manager will provide leadership to the communications team at CEHURD and will have demonstrable experience in working in a non- profit context. The Manager leads the communication's department initiatives and provides mentorship and oversight on the communications team. This position particularly requires a strong writer who will develop high quality content for CEHURD's external communications including daily administration of the digital communication channels. This is a dynamic position that includes fundraising, development and communications responsibilities with a strong connection to CEHURD's programmatic work and mission.
(d) Finance Officer: This position requires a highly analytical and qualified Financial Officer with demonstrable practical experience in the use of the QuickBooks accounting software. This position involves working with the finance manager and team to diligently undertake the development of budgets, monitoring transactions and preparing financial reports. The ideal candidate should hold a strong work and professional ethic in addition to the accounting and analytical skills. Please find the detailed job descriptions for each of the positions on our website: www.cehurd.org If you believe you are the ideal candidate for any of these opportunities, please deliver your Curriculum Vitae, Copies of your academic documents, a list of three references including their contacts and a cover letter in a sealed envelope to:
The Director of Operations CEHURD
Plot 4008, Justice Road, Canaan Sites, Nakwero
Gayaza – Kalagi Road OR Email your application to:
info@cehurd.org with a copy to nakanwagi@cehurd.org.
The closing date for the receipt of applications is 16th December, 2019. Only shortlisted applicants will be contacted.
Please find below the attached Job Descriptions