By Nakibuuka Noor Musisi
Dr. Kiggundu was and still remains an irreplaceable maternal health champion that the Sexual and reproductive fraternity has ever had. For over 30 years of his professional career, Dr Kiggundu worked to advance sexual and reproductive rights in Uganda. With him, the gap between advocacy and service provision was bridged. He brought on board the insight of the lived realities of service providers with the legal fraternity.
"How do we get an ambulance to collect a gravida 10 9 previous scar at 28 weeks with preterm labour from Ndejje Bombo?" Kiggundu Charles' last message sent on 25th December 2020.
While the world went to sleep on Christmas day, at about 8:48pm on 25th December Dr Kiggundu was thinking about a mother in labour.
I first met Dr Kiggundu at a meeting organized by the Center for Health, Human Rights and Development (CEHURD) to analyse the laws on sexual and reproductive health and rights in 2012. CEHURD had initiated a campaign on maternal health in Uganda and had sued the government of Uganda for its failure to protect women and their lives despite the natural maternal functional role they played in society. This later came to be known as the famous land mark maternal Health case, Constitutional petition No. 16 of 2011.
Being a health service provider, Kiggundu together with a team of lawyers played a critical role in addressing questions around maternal health legislation. He made things look easy as he spoke from a humanistic and an informed point of view, citing lived realities of what women go through while accessing reproductive health services. He was the only health service provider who was part of the CEHURD's Legal support network (LSN), a network of lawyers that provide legal advice and representation to health service providers caught up in the criminal justice system while providing essential sexual and reproductive health services. The advocates under the Network have continued to support efforts towards strategic litigation, legal and policy reform and empowerment of health workers qualified to SRH services in accordance with the laws and policies in Uganda). He later came to refer to himself as a "learned friend" and to others he called himself a "midwife"
What a way to commemorate the international day of the Midwife without Kiggundu! What a life to reckon!
Tuesday, December 29th 2020 is the day God tested our patience and courage and took away our own Charles Kiggundu. The news of his demise threw us off balance!
"Noor, I have information that is not yet confirmed. I have read on Dr Sabrina Kitaka's social media page that Dr Kiggundu has passed on. Can I share the screen shot? Do you think we should tell people?" One of the workmates reckoned.
I froze for a moment and failed to respond. I realised that for the past ten (10) years of my engagement with Dr Kiggundu, he had never missed my phone call. I was quick to tell a friend to wait to share the news so that I call him. As the phone rang with no response, I could not feel my legs anymore. My eyes got filled with tears. I knew the information could be true. Before I could hang up, a colleague from the Association of Obstetricians and Gynaecologists in Uganda, Dr Kiggundu former workplace rang me.
"Noor, I am sorry but your friend Kiggundu has gone to be with the Lord. It is unbelievable that we have lost Kiggundu to COVID-19. It is sad that we could not save the life of a brave man." He noted.
The demise of Dr Kiggundu leaves a lot to think about. Early last week, CEHURD filed a case challenging the Attorney General for failing to act on orders of Court given in Constitutional petition No. 16. As we reached out to people to attend to a press conference, I realised we missed an important person, one who would tell a story from his own humanistic experience of delivering women. That person who had mastered the art and intersectionality between the law and health.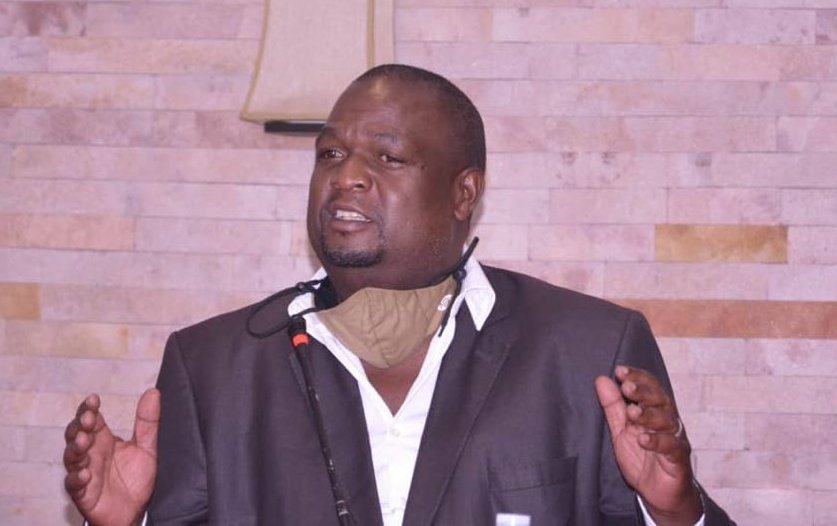 We continue to miss a kind, approachable and welcoming person. He mentored many of us into advocacy and spoke about women's rights with passion and he always had a story to tell prior to a training. Dr Kiggundu occupied policy development places and his advocacy influenced cases before courts of law.
He will be remembered for being an extraordinary health service provider, a down to earth person who worked with passion to advance women's rights. It has been five difficult months of advocating for sexual and reproductive health and rights without this great champion. To anybody that has engaged in advocacy for women's rights, I am certain you did not miss his presence and input.
Dr Charles Kiggundu was born in 1965 at Kasana, Luweero District to the late Wilson Kabaale and Nsangi Esther Ruth. He was married to Mrs Ndagire Harriet Kiggundu, left behind 9 children and was laid to rest on 31st December 2020.
At the time of his demise, Dr Kiggundu was heading the Department of Obstetrics and Gynaecology at Makerere University. He served as a treasurer of the Association of Gynaecologists and Obstetricians (AOGU) between 2004 and 2009. He also served as the Vice President (2008-2013) and President of the Association between 2013 – 2015.
Your life reigns Charles. Rest in peace, you will be deeply missed by the SRHR fraternity, gynaecologist association and Midwifery Association.
The writer is the Director of programs at the Center for Health, Human Rights and Development.