On 8th August 2014, the Center for Health Human Rights and Development hosted judicial officers at Protea Hotel in Kampala to discuss a Human right approach to the criminal justice system in Uganda.
The objective of the meeting was to discuss possible ways by which judicial officers can incorporate international and regional instruments which Uganda has ratified when handling cases of human rights, and to discuss best practices and experiences of other jurisdictions in applying a human rights approach to handling cases.
The meeting was opened by CEHURD's Programmes Coordinator David Kabanda who noted that in the criminal justice system there is usually laxity in handling issues of human rights and stressed the importance of working with judicial officers; being an organisation that is oriented towards protection of human rights.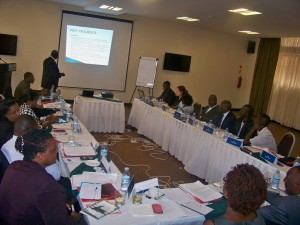 This was followed by an introduction of participants present with the participants constituting of CEHURD staff, facilitators from the school of Law at Makerere University and judicial officers from Nabweru, Iganga, Busembatia, Mengo and Nakawa Courts among others.
Prof. Ben Twinomugisha then made a presentation in which he highlighted the scope of international and regional instruments recognizing and protecting human rights including, among others, the Universal Declaration on Human Rights and African Charter on People Rights among others. He requested the judicial officers to look beyond the criminal laws when trying offences and look at the human side of each offence committed and the reasons as to why such offences may have been committed; for example the case of a girl who has been raped and tries to procure an abortion and is arrested and brought before the criminal justice system.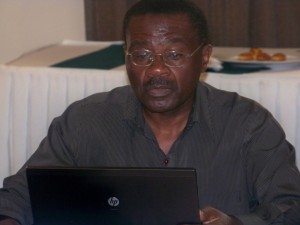 Dr. Kasimbazi Emmanuel then made a presentation on fair trial in the criminal justice system which he noted had 3 parts including pre-trial, trial and post-trial. He noted that each of these stages have rights attached to them and which could be violated by judicial officers.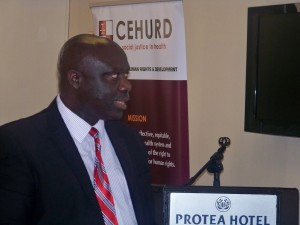 Ass. Prof Chris Mbazira then led a panel discussion in which he put several questions to the panelists who constituted of Her Worship Flavia Nabakooza, His Worship Araali Muhiirwa, His Worship James Jeremye and Counsel Kabanda David. The highly interactive panel discussed questions like: Who are the human rights stakeholders in the criminal justice system, What are the obligations of the judicial officer when they find a violation of human rights and how to ensure that the rights of the accused are protected in the criminal justice system.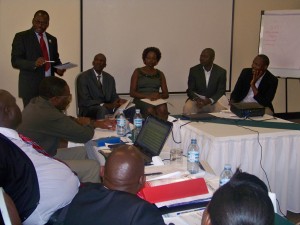 Several contentious issues were raised in the panel discussion including the admissibility of human rights cases before magistrates courts, the use of torture to 'extract' evidence and its admissibility, trial of child offenders, the human rights of judicial officers and how judicial activism can and is being applied to protect human rights in the judicial criminal system.
The participants recognize the value of the meeting and requested that such meetings be organised more often and the materials from such meetings be made available to educate them on human rights issues. The meeting was closed by Counsel Kabanda David.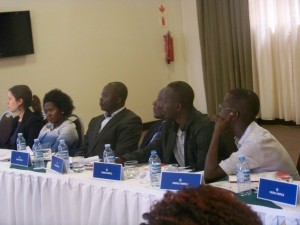 Center for Health Human rights and development (CEHURD) intends to organize more of such interactions in fulfillment of its quest for the realization of Human Rights for all.